I recently managed to buy four whole seasons of
Supernatural
for $15 each! (I couldn't find season 3, unfortunately, and I decided to wait on season 6 since I like to pretend the show ended with season five, anyway.) I couldn't help but think when buying them, "Gosh, these would have been
sooooo
helpful to have back when I wrote that essay last year!"
What essay, you ask? The one for my Religion in the Modern World class, where I had to discuss the portrayal of angels on
Supernatural
, in relation to the Judeo-Christian apocalypse. Some of you may remember me
squeeing about getting a 100%
on it and pretty much doing this: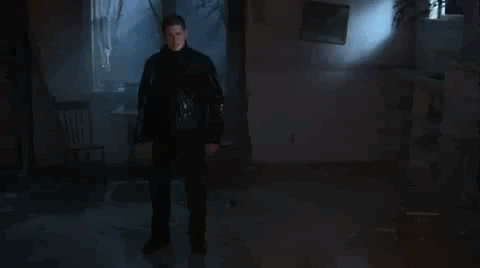 I know I once shared a vampire essay I'd written for college, because someone had asked to see it, but I never shared my
Supernatural
one. So...I'm sharing it now!
Click here
if you're interested in seeing me ramble about the angels on that show, or if you simply want to scroll down and see the slides I also had to make for the PowerPoint presentation! I'll be over here awing over how shiny the DVD covers for
Supernatural
are....