I could have sworn there was supposed to be a new episode of
Ringer
tonight—my favorite new show this season—and since there wasn't, I got paranoid enough to Google and see if it was at risk of cancellation yet.
I uncovered awesomeness instead.
You guys know Misha Collins, that amazing actor who plays the equally amazing angel Castiel on
Supernatural
?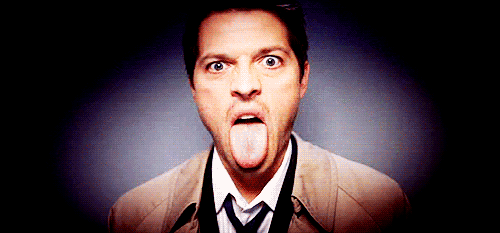 That's right, this guy!
Yeah, well, it turns out he's going to be
guest-starring on Ringer
—a show that is already awesome enough to have stars like Sarah Michelle Gellar and Kristopher Paloha, as well as guest stars like Jason Dohring.
*obligatory fangirl squee*
The awesomeness doesn't end there, though. Jason Dohring—who has not only been on shows as good as
Ringer
, but shows as EPIC as
Veronica Mars
—is going to be
guest-starring on Supernatural!
As a Greek god of time! You all should know very well how much I love characters like
that
. (FLG, anyone?!)
Snarky rich boy, vampire, teacher, and a Greek god?!
Clearly doesn't need this gif to be deemed EPIC….
I just…I just can't stop squeeing. I never thought the CW could be cool enough to dish out this much awesomeness at once—not even when
this happened
—but apparently they are.
*squees again*
*tries to regain some composure in order to accomplish
something
productive tonight*
*caves to more squeeing*